ATOS 5 for Airfoil
ATOS 5 for Airfoil – Tailor-made for gas turbine industry. Blue Light Equalizer , Fast image processing , Short exposure times , Robust precision
ATOS 5 for Airfoil
Tailor-made for gas turbine industry
"Blue Light Equalizer , Fast image processing , Short exposure times  , Robust precision"
GOM has introduced the ATOS 5 for Airfoil optical measuring machine. Designed for precise acquisition of demanding parts that is particularly suitable for the inspection of airfoil components like turbine blades, nozzle guide vanes, vanes from jet engines or blisks in the aerospace and gas turbines in power generation.
The ATOS 5 for Airfoil expands the ATOS 5 series in the measuring area for small parts. While the all-rounder ATOS 5 successfully performs a wide range of measuring tasks in measuring areas from 170 to 1,000mm in length, the ATOS 5X is particularly effective when used for large surfaces and parts due to its strong, focused light.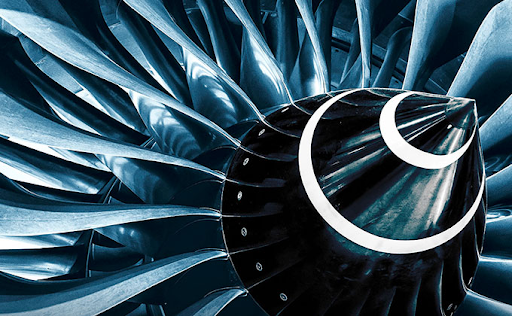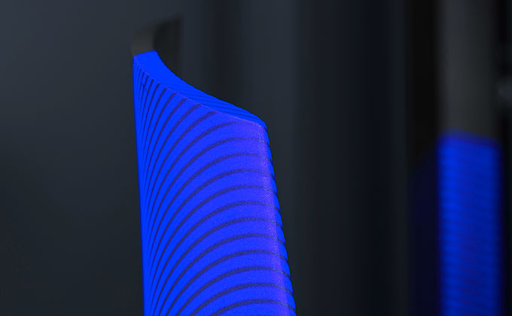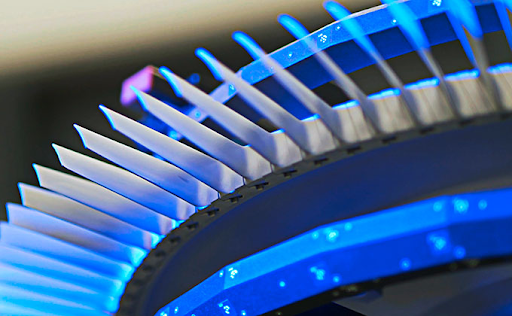 Fan Blade Inspection
Fan blade inspection is characterized by geometrical complexity and requires a highly advanced technological approach to meet functionality and material tests.
Turbine Blade Inspection
Smallest details of turbine blades have an effect on the efficiency and fuel consumption of an aircraft. Speed and Precision for inspection processes is key.
Blisk Inspection
Measurements on blisks require high-end automation processes for fast inspection results and sophisticated software to allow for in-depth analysis.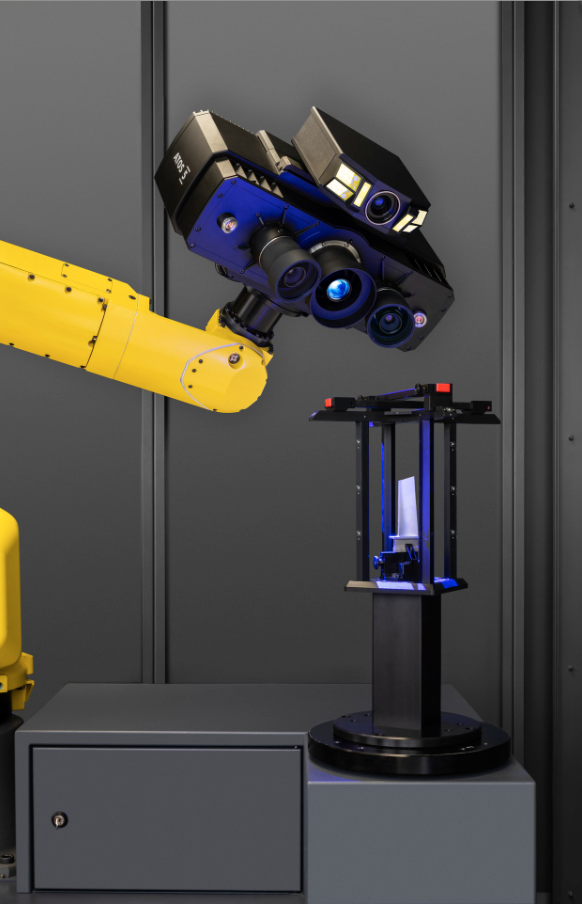 ATOS 5 for Airfoil
– Precise scanning of
smallest details
Optimized, shortened working distance

Extremely high stability in automated applications
Blue Light Equalizer
Uniform, non-coherent, speckle-free light
Robust sensor design
High accuracy in rough environment
Optimized working distance
Highest data quality down to the smallest detail
Unique software functionalities
Efficient inspection of airfoil sections
High stability  
Automated high-speed scanning
High-speed scanning
Precise High-Speed Scanning of Smallest Details.
Developed for gas turbine industries, ATOS 5 for Airfoil with its optimized working distance and measuring areas from 100 × 70 mm² delivers
high-precision 3D measuring data of the smallest details in a short measuring time. The full-field 3D measuring data of fan blades or turbine blades, blisks and drums or vanes (NGVs, OGVs, IGVs) enable reliable quality control, visualizing hidden errors and thus accelerate production, maintenance and repair processes.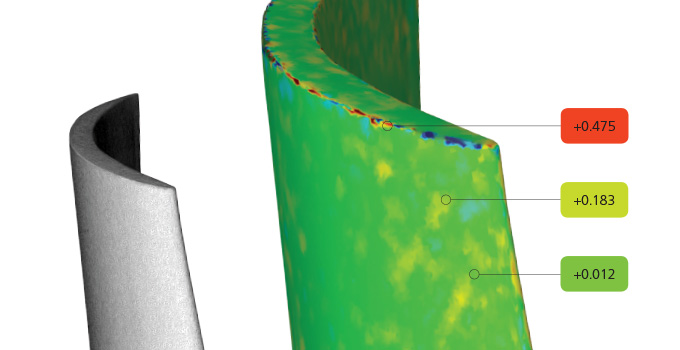 GOM Data Quality
Each ATOS system is a complete solution consisting of a sensor and the corresponding software: a complete parametric and traceable measurement and inspection software for dimensional analysis. This process reliable
the software solution controls the ATOS 3D scanner, produces precise 3D surface data and offers comprehensive inspection and reporting functionalities.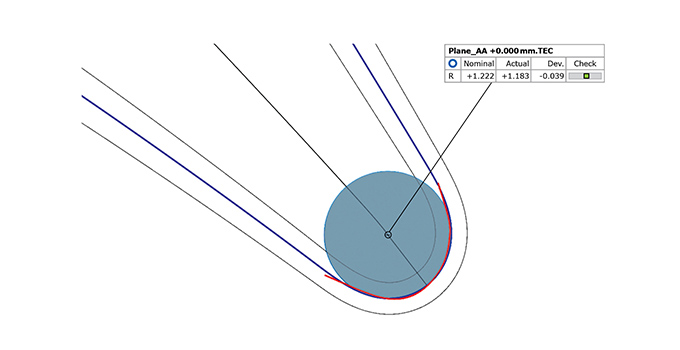 Edge Points and Edge Circles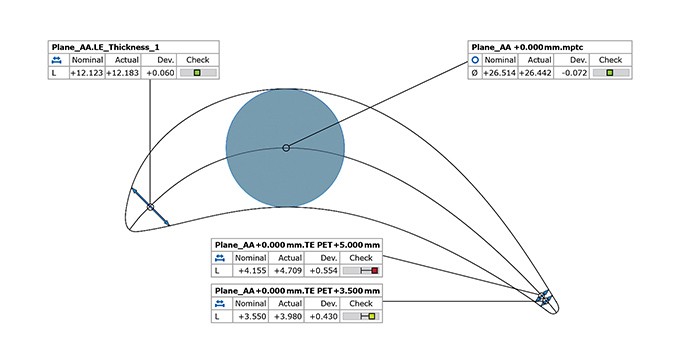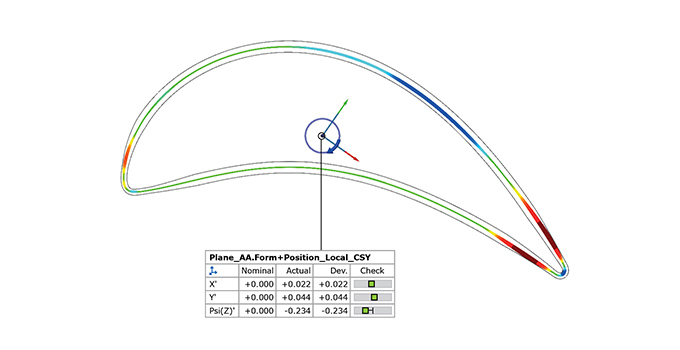 Fast Inspection with GOM Data Quality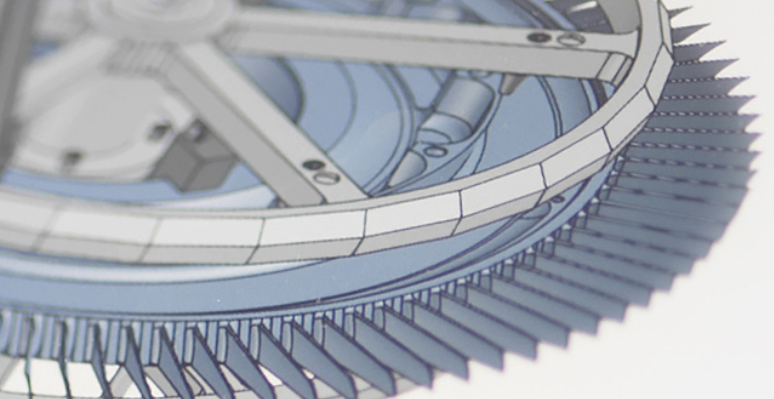 ATOS 5 for Airfoil measures detailed quality information of new products or components from maintenance or repair at significantly reduced measuring time. The number one advantage of the ATOS 5 for Airfoil is the measurement speed. 3D scanning times of about one hour for blisks and less than 20 minutes for fan blades result from data acquisition in less than a fifth of a second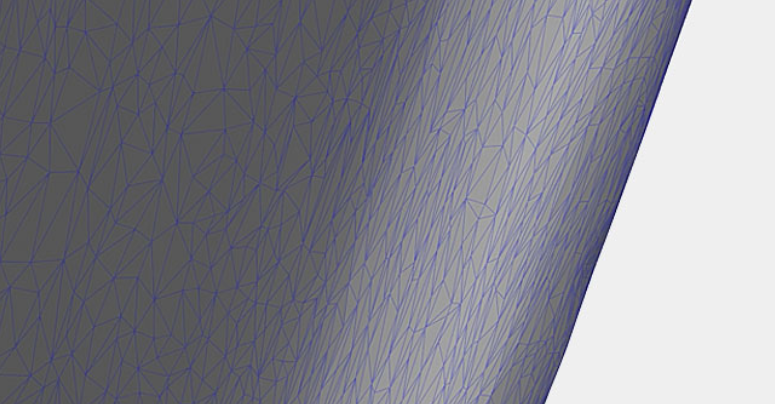 ATOS 5 for Airfoil delivers high-precision full-field data for comprehensive process and quality control of fan blades, turbine blades, blisks and different vanes (NGVs, OGVs, IGVs). The data quality provided by the sensor meets the high requirements of the industry. For the measurement of turbine blades the accuracy and thus the resolution at the edges are of particular importance.
Technical Data (ATOS 5 Product Family)


ATOS 5 for Airfoil
ATOS 5
ATOS 5X
Light source
LED
LED
Laser
Laser class
-
-
2/3B *
Points per scan
12 million
12 or 8 million
12 million
Weight
approx. 14 kg
approx. 14 kg
approx. 14 kg
Dimensions
approx. 550 mm x 320 mm x 200 mm
Housing
dustproof, splashproof
Cable length
fiber optic cable up to 30 m
Operating system
Windows 10
Measuring volumes
100,170,270,400
170,320,500,700, 1000
320,500,700,1000
Measuring area [mm²]
100 × 70 – 400 × 300
170 × 140 – 1000 × 800
320×250 – 1000× 800
Point distance[mm]
0.03 – 0.1
0.05 – 0.25
0.08 – 0.25
Camera angle
27.5°
27.5°
27.5°
Working distance [mm]
530
880
880
* According to standard IEC 60825-1: In 2014, classified as a Class 2 laser in automated use and as a Class 3B laser in manual use (safety distance without safety goggles > 700 mm).