ATOS Compact Scan
ATOS Compact Scan – Precise. Flexible. Affordable. Mobile 3D scanner for a wide range of applications
ATOS Compact Scan – Precise. Flexible. Affordable.
Mobile 3D scanner for a wide range of applications
ATOS Compact Scan is a mobile and multipurpose all-around system for industrial quality assurance. Its greatest strength lies in the high data quality it records along with how flexibly it can be used. This versatile ATOS system is often integrated into the assembly line or brought to the measuring object – without having to bring it to a measuring room in advance. ATOS Compact Scan is suitable for measuring and inspecting small to large components and objects.
8 or 12 Million Points per Scan

Scalable Measuring Area

Mobile 3D Metrology

Small Dimensions and Low Weight

Customer Friendly Calibration

Manual or Automatic Operation
" Less transport effort, faster error detection "
Sensor
Power supply: AC 110/230 Volt, 50-60 Hz

Weight: approx. 4 kg

Distance adjustment: Laser pointers

Operating temperature: 5 °C to 40 °C (non-condensing)

Cable length: 10 m
Camera
Resolution: 8 or 12 megapixels

Connection: Gigabit Ethernet

Scanning speed: approx. 1 second
Computer
Stationary: Workstation

Mobile: Laptop (via Thunderbolt 3)

Operating system: Windows 10
Accessories
GOM Touch Probe

Calibration object

Point markers 

Stand

Transport case
Options
Reference frames

GOM Touch Probe Kit

Manual rotation table with threaded hole pattern

1-axis automation: mobile, motorized rotation table

3-axis automation: Motorization Kit with tilt and swivel unit and vertical axis
Measuring Volumes (MV)
| Camera Frame Small Objects | Camera Frame 300 | Camera Frame 500 |
| --- | --- | --- |
| MV170: 170 x 130 mm² | MV600: 600 x 500 mm² | MV1200: 1200 x 1000 mm² |
| MV80: 80 x 60 mm² | MV350: 350 x 250 mm² | MV700: 700 x 500 mm² |
| MV45: 45 x 35 mm² | MV170: 170 x 130 mm² | |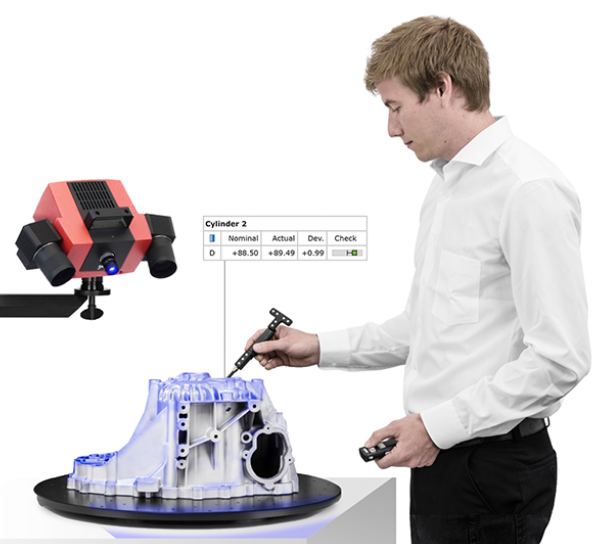 All-round inspection – Scanning, probing, tracking in a single system.
Digitize and analyze your part within a short period of time.
Flexibility- Scalable field of view and high precision.
This flexible measuring system is also perfect for measuring and inspecting large and heavy objects directly in the foundry or workshop.You can change the measurement range and measure from coins to vehicles.
Mobile – Stress-free operation for the user
Mobile coordinate metrology in a lightweight portable product.
Optics and electronics are integrated in very small installation space for the first time. Its compact shape gives the sensor high stability and allows measurements to be taken in confined spaces. Depending on resolution requirements and measuring area sizes, the easy-to-handle sensor heads can be replaced easily via a quick release, without the need for re-calibration.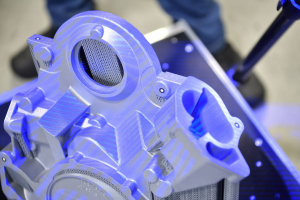 Blue Light Technology
The projection unit of the ATOS Compact system is based on Blue Light Technology. Since the sensor works narrow-band blue light, interfering ambient light can be filtered during image acquisition. Due to its powerful light source, short measuring times can be achieved.
GOM Touch Probe
The GOM Touch Probe enables the selective measurement of areas that are difficult to access optically and the measurement of regular geometries and their direct comparison with CAD data