SolidCAM
SolidCAM for high-efficiency milling and turning Windows-based SOLIDWORKS supports all types of CNC machines, including Swiss-Type machines, and is the only program with iMachining technology that allows for the highest speed and efficiency of milling programs.
Complete CAM solution, seamlessly integrated in SOLIDWORKS
SolidCAM program runs in the SOLIDWORKS window by directing the CAM onto the workpiece file. The toolpath is automatically updated if 3D CAD parts are modified, making programming accurate and fast.
SolidCAM provides CAM commands for all CNC machines, including Milling, Turning, Mill-Turn, and Swiss-Type machines. Users can choose to purchase suitable modules according to the existing CNC machine.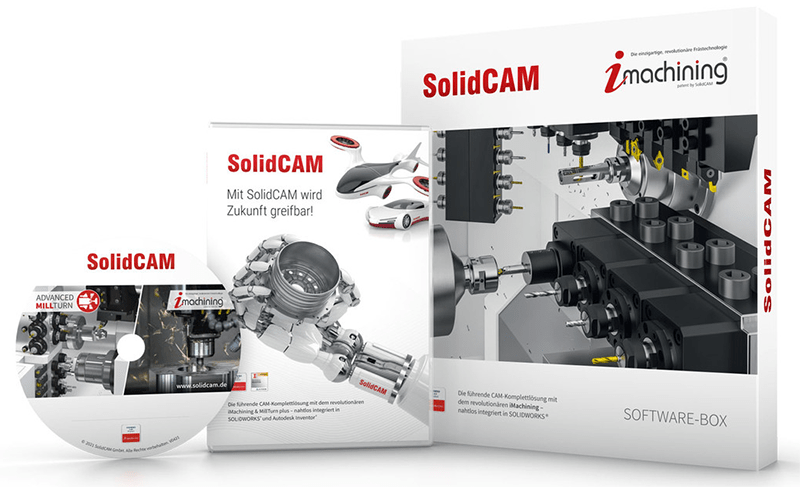 Unique CAM
iMachining intelligent technology for high-speed milling that could reduce the time from the traditional method by more than 70% by automatically calculating the Cutting Condition, considering the workpiece material, milling cutter, and CNC machine specs, then calculating Feed rate, Spindle RPM, Step down, and step over automatically. So, users can get a highly efficient milling program.
SolidCAM could reduce cutting time by more than 70%.

Significantly increased cutter life.

ไNo milling rigid workpiece materials problems.

Able to millwork quickly with total efficiency Even if using a small end mill.

Compatible with all types of CNC Milling machines, including Mill-Turn machines.

There is a Technology Wizard to automatically calculate the optimum cutting condition.

Get a highly efficient toolpath. It takes less time to do the program.

There is an easy-to-understand, Uncomplicated user interface.

Use the shortest learning time when compared to other programs in the industry.
SolidCAM – The Complete CAM Solution
iMachining & 5 axis machining
SolidCAM Post Processor is a toolpath that converts toolpath to Gcode for various CNC machine models. In generating Gcode to send to milling at CNC machine, it is necessary to get Gcode with quality and accuracy. Besides, according to the format that each CNC machine can read without error … >> Read more >>
SolidCAM Subscription Service
Unique CAM solutions for the most efficient milling. It's like putting the knowledge and experience of hundreds of CAM and CNC professionals in your hand. This guarantees that you will be able to complete the first milling job.
iMachining intelligent technology for high-speed milling that could reduce the time from the traditional method by more than 70% by automatically calculating the Cutting Condition, considering the workpiece material, milling cutter, and CNC machine specs, then calculating Feed rate, Spindle RPM, Step down, and step over automatically. So, users can get a highly efficient milling program. >> Read more >>