GstarCAD
GstarCAD, a drawing program that can be used as a replacement for AutoCAD, is a genuine licensed CAD. No need to pay annual rent Buy and use for life. In Thailand, more than 12,000 copies have been sold. Support DWG/ DXF/ IFC files.
GstarCAD
GstarCAD, a 2D/3D drawing program similar to AutoCAD , has been upgraded to align with today's drawings. With better 3D functionality, there are essential commands and special tools for designing. Packed with efficiency, GstarCAD 2023 is today's most cost-effective 2D drafting and 3D drawing program.
GstarCAD 2023
Efficient design & Accurate Plotting
In GstarCAD 2023 , several significant improvements have been made to Plot commands, allowing for more accurate plotting and improved rendering and editing of the plot of image files. With a level resolution of billion pixels, GstarCAD 2022 includes many new developments and improvements to help you maximize your productivity.
Prefect Compatibility   
Developed for full compatibility with AutoCAD, it can work together seamlessly. It is a design file, menu interface, command set, and general user operations. Easily configure and deploy other AutoCAD programs/add-ons on GstarCAD.
Performance
Multi-Core is supported in GstarCAD 2023, which makes the performance significantly optimized. The speed of opening drawings increases almost 100%, and the operation process is much smoother.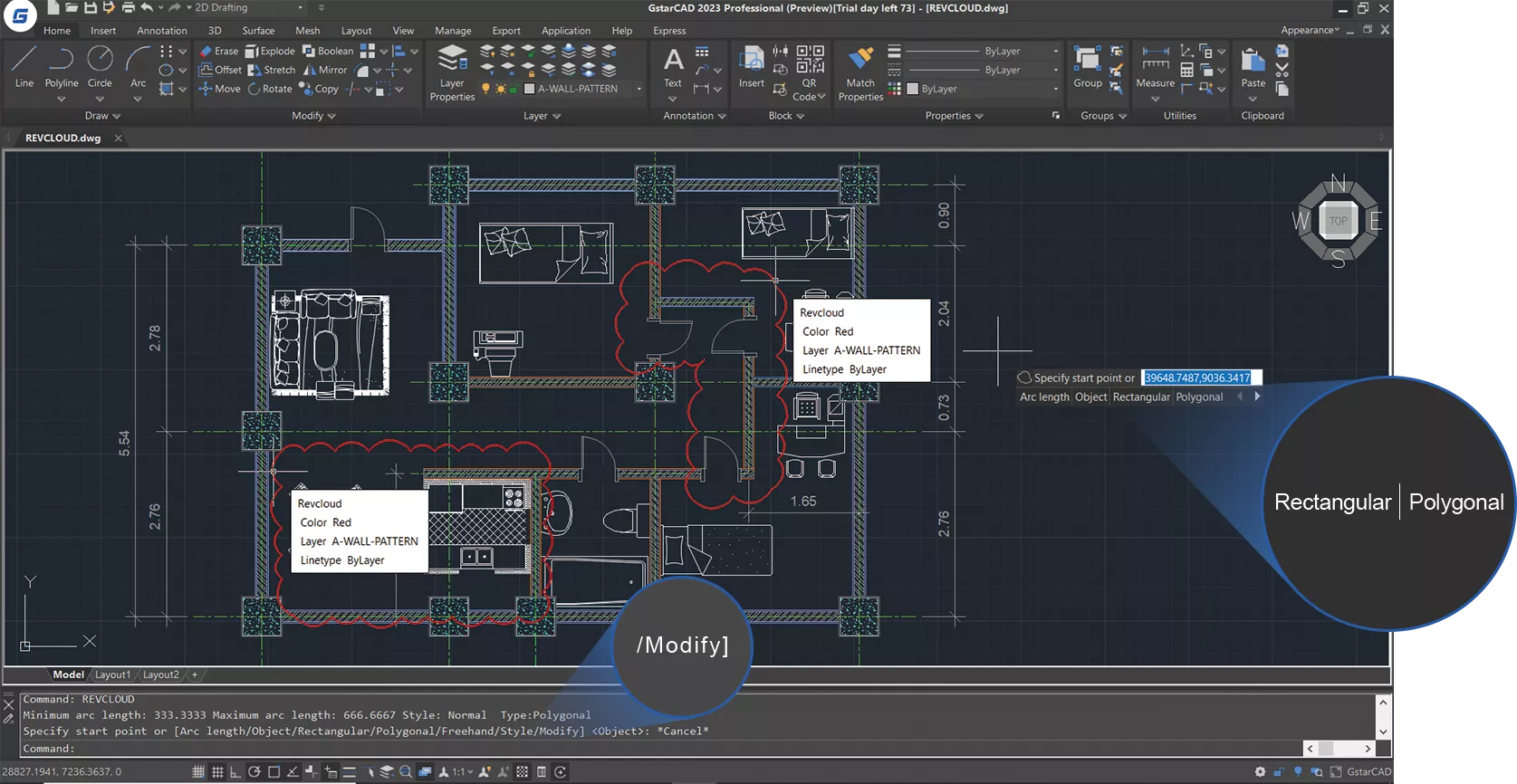 REVCLOUD
The "Rectangular", "Polygonal" and "Modify" options are added to the REVCLOUD command, and the number of grips displayed on a rectangular or polygonal revision cloud can be controlled. So, you can create a revision cloud or redefine an existing revision cloud more easily.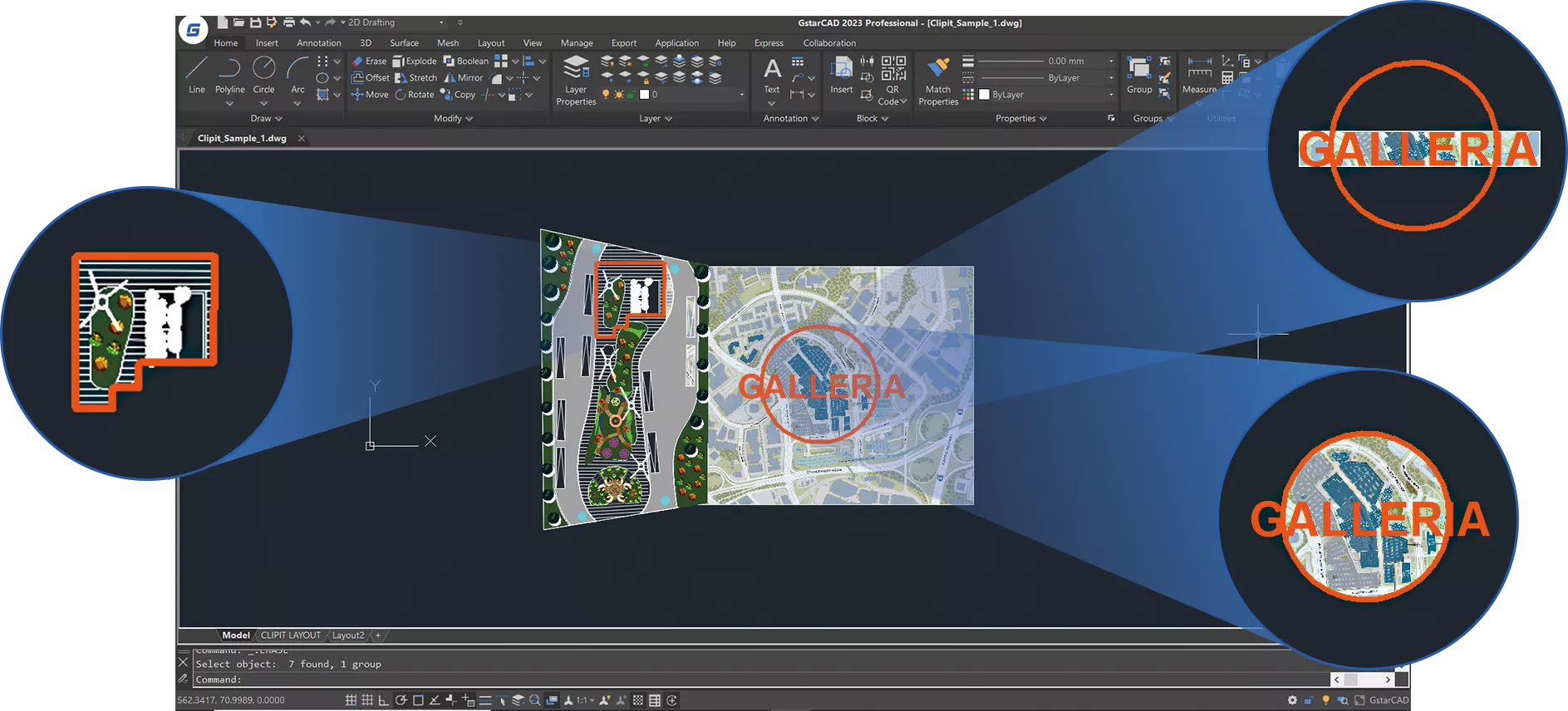 CLIPIT
The CLIPIT feature clips or removes specified portions of blocks, Xref drawings, images, and wipeout objects by defining polyline, circle, arc, ellipse, text, mtext, or attribute definition as clipping boundaries. And you can set the maximum allowable error distance for resolution of arc segments.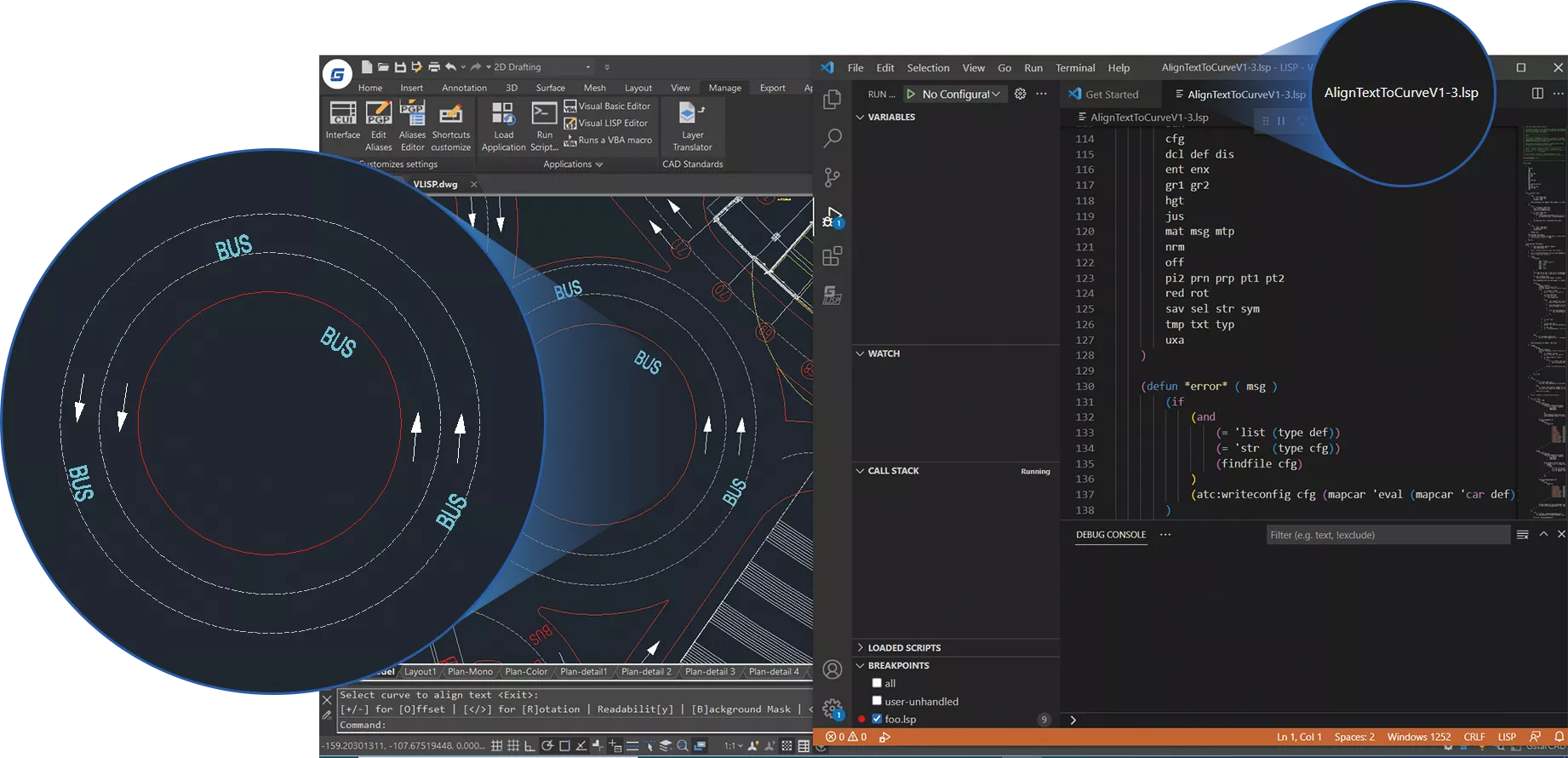 Lisp debugger
You can execute the VLISP command to launch the Visual Studio Code as the Lisp Debugger in GstarCAD 2023. The GstarLisp extension adds support for Lisp files to Visual Studio Code, which allows you to edit and debug your lisp programs with GstarCAD conveniently.
VPSYNC
With the VPSYNC command, you can synchronize one or more layout viewports to a master layout viewport to have the exact locations matched up. All synchronized viewports use the zoom factor of the master viewport. It's essential for printing super-long drawings separately or matching up maps precisely.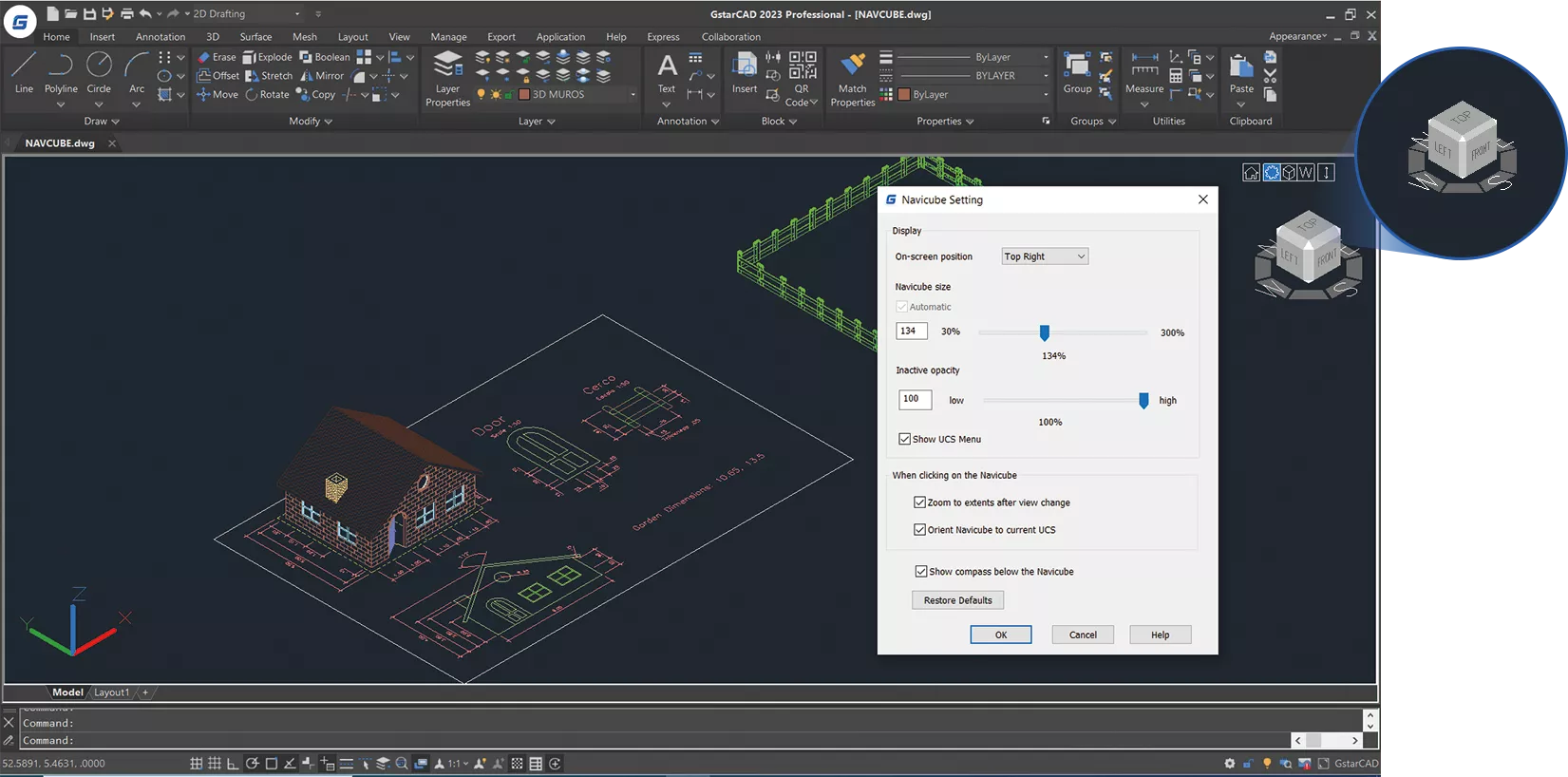 NAVICUBE
A navigation tool is displayed in 2D or 3D model space, which allows switching between standard and isometric views more easily. It consists of a cube, compass and options, which is draggable and clickable, and supports switching to any available preset views, rolling the current view, or setting the current view as the Home view.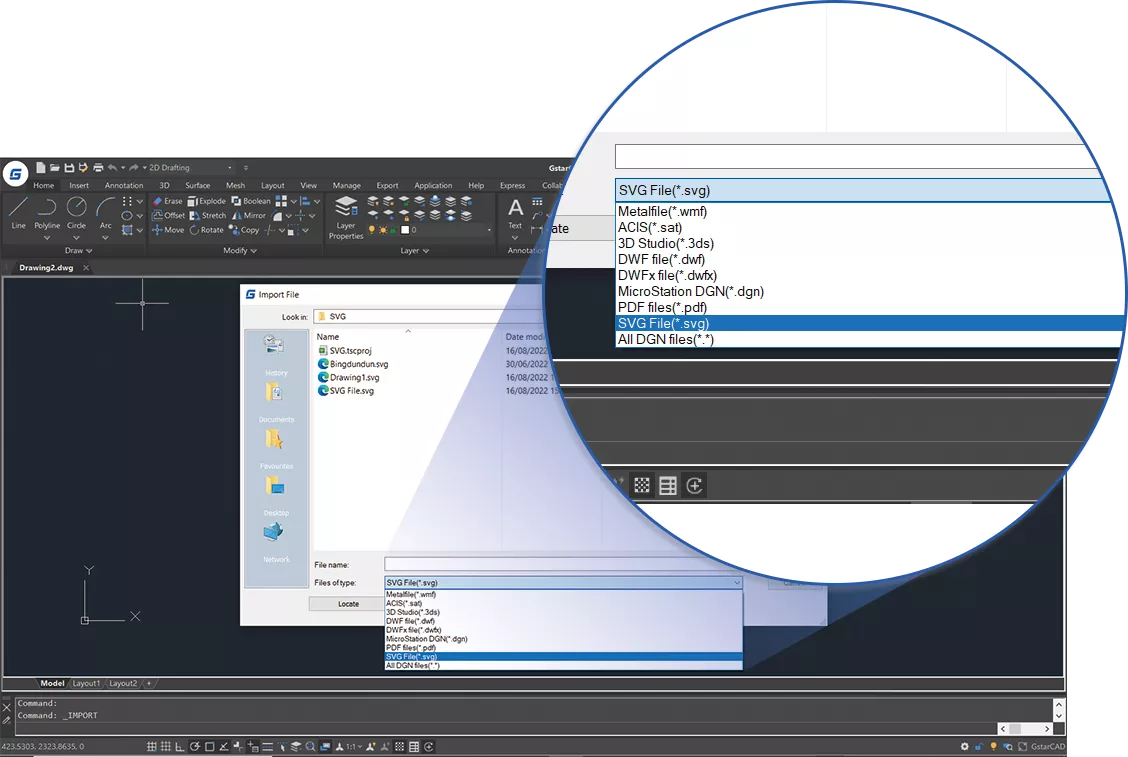 SVG FILE
In GstarCAD 2023, SVG (Scalable Vector Graphics) files are available to be imported and exported.
Reset Settings To Default
The Reset Settings to Default option in Windows Start menu helps reset GstarCAD settings to default much quicker and more easily than doing it manually. You can also choose to back up and reset custom settings.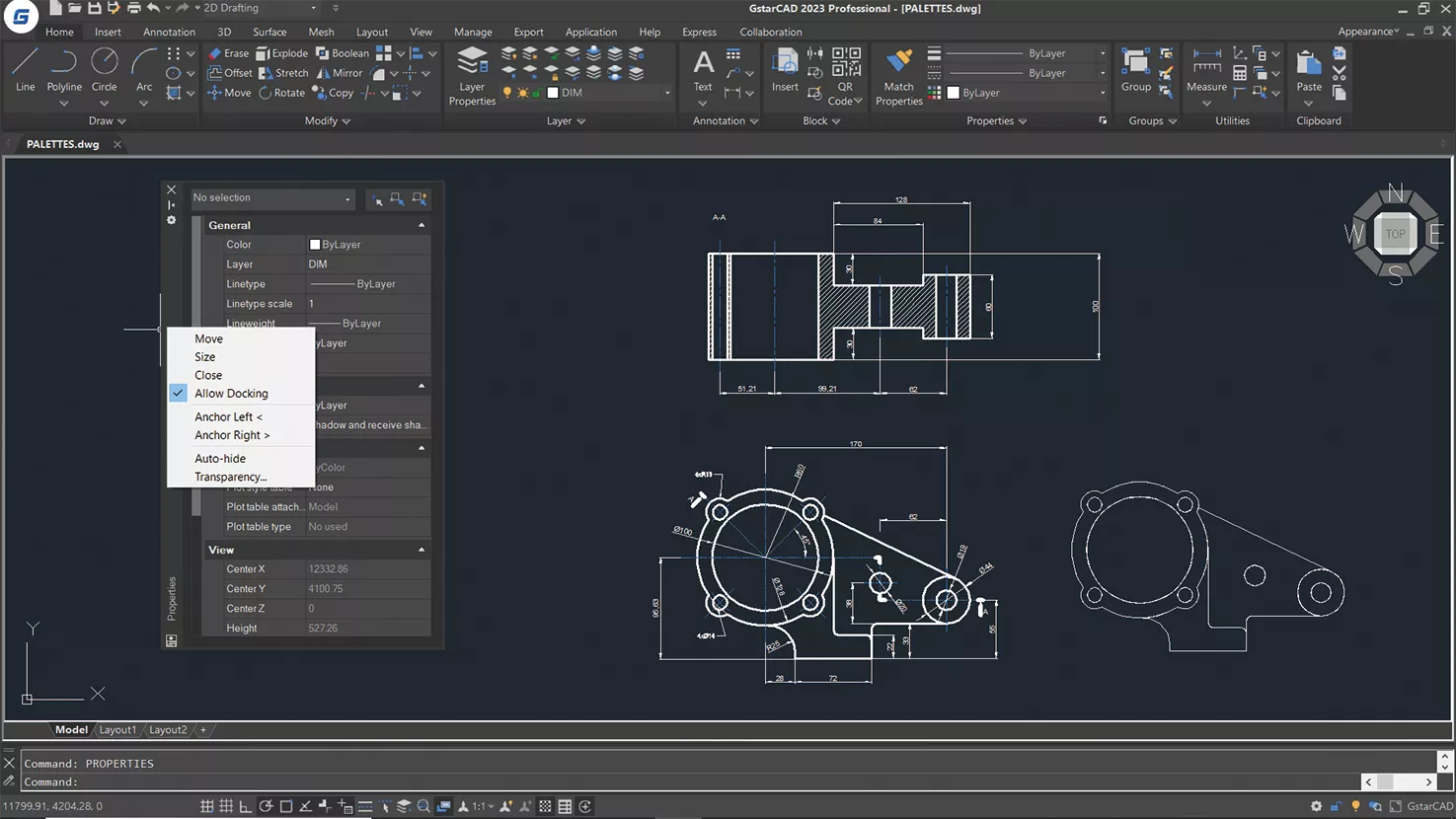 Palette
Floating palettes and windows in GstarCAD 2023 provide "Anchor left/right", "Auto-hide" and transparency adjustment options, as well as memorizing the locations and settings of floating palettes and windows.
GstarCAD Premium
Speed up your drafting for more productivity.
Standard symbol and library: DIN, ISO, ANSI, IEC and etc.
easy adding local symbol and library
Smart tools for adding or deleting symbol on any line.
Automatic BOM/BOQ
Works the same as AutoCAD
Store files with the same .DWG extension, which can open files from AutoCAD (R14 to latest versions) without the need for conversion. any files which will not cause any damage to the data

The menu system is available in either the original or the latest RIBBON.

Menu system, operation system, and the use of various commands are similar by the user or the writer without having to learn new things.

Support for external reference block layer system

Support DYNAMIC BLOCK

Support for LISP language

Works with other files

Importing and exporting DWG, DXF and SCR (script) files

Importing mnu (menu) and dcl (dialog box) files

Exporting WMF, EMF (Enhanced Metafile) and SLD (slides) files

Reading and viewing BMP, GIF, JPG, TIF, PCX image files within DWG files.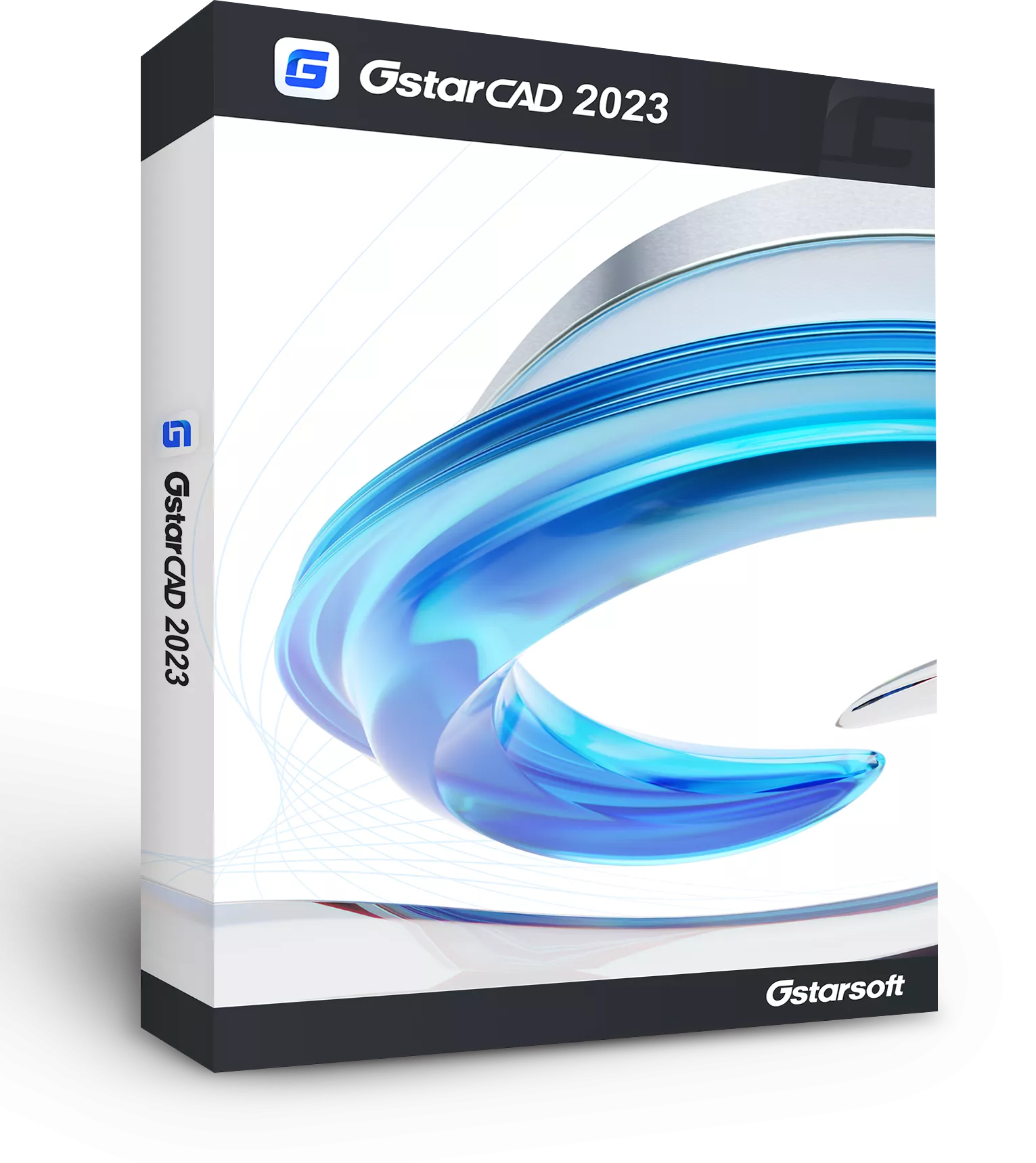 Instant replacement for your original CAD.
If you are using AutoCAD, you can switch to GstarCAD right away, because the working style and commands are very similar to AutoCAD, less time and cost of learning. You can install the software and start using it right away.
Work with others as usual
Supports old files from AutoCAD (R14 to the latest version), no conversion required. which will not cause any damage to the data
Helps to reduce the cost of licensing software
With 5-8 times cheaper than traditional CAD software, it gives you a CAD license that can be used up to the actual number of uses. Designers no need to worry about software copyrights. It is also a one-time purchase license, however, can be used for a lifetime has held the copyright for the lifetime.
Support for all file sizes
– Can work with normal-sized files for small and large data files, such as drawings, parts, and equipment for designing buildings and large projects. There are control formats for users to choose from as follows:
– Control software (Soft Lock) (Flexnet)
– USB dongle control (Hard Lock) (Hardware Authorize)
It also supports a variety of functions as follows:
– Single device (Stand Alone License)
– In the network (Network License)
How can GstarCAD help your organization?
There is a working window, abbreviated commands, and a working style similar to AutoCAD (Classic / Ribbon Menu).

Open/Save//Save as to DWG/DXF to R14 – current version

Supports LISP and additional add-ons.

There are special instructions that are only available on GstarCAD.

It is a purchased license that can be used for life.

There is after-sales service and stability with a team of over 250 Applicad Co., Ltd., operating since 1994.
AppliCAD wins 3 major awards from Gstarsoft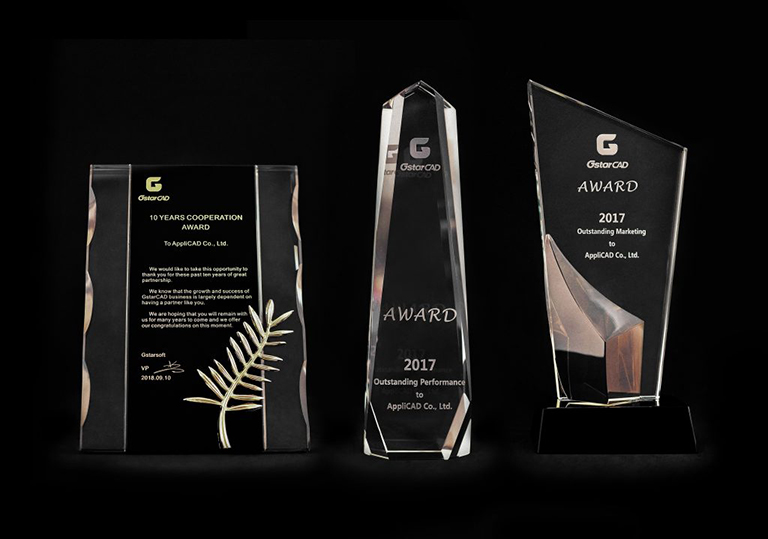 AppliCAD Co., Ltd. strives to encourage Thai people to use cost-effective licensed software throughout its operation. As well as build confidence and trust in using GstarCAD, a licensed CAD drawing software sold in many countries around the world from users in Thailand with 3 awards guaranteed by Gstarsoft Co., Ltd. The world's leading supplier of CAD solutions, the awards were presented at the 5th GstarCAD Global Partner Symposium in Suzhou, China, attended by global partners and industry experts from over 30 countries.
2017 Outstanding Performance to AppliCAD Co.,Ltd.
2017 Outstanding Marketing to AppliCAD Co.,Ltd.
10 Years Cooperation Award to AppliCAD Co.,Ltd.