ArchiCAD Thai BIM
BIM Technology Design for thai contractor to enhance your work. automatically generated models from the BIM model. saving you time and money get more Profits
ArchiCAD Thai BIM  : Technology of (design and drawing ) including BOQ , will enable Thai contractors to work more efficiently, reduce costs, and make substantial profits. With ready-made functions and automation that are further developed to match the contractor work in Thailand, this reduces the working time, removes the BOQ quantity accurately, controls the cost, and can be used by yourself. Suitable for contractors who want quality, accurate and profitable work.
Archicad Thai BIM is Perpetual License for thai user.
3D Modeling software – Produce high-quality visualizations to win client and other stakeholder buy-in and solve the problem before on site.
2D CAD software – drawing tools for creating accurate and detailed technical drawings automatically to produce quality cross-sections, elevations, and plans. Saving time up to 70%
Complete Construction and MEP – Automatically check your model for collisions and energy efficiency
Calculate accurate quantity take-offs, schedules, room inventories and more at any phase of your design (Pricing has referred by the Comptroller-General's Office of Thailand)

Thai library – more than 300 doors , windows amd  accessories..

Other functions to increase accuracy and reduce working time
Focus on architectural design , construction , Foundation and roof
Design technology ,drawing and BOQ all function for Thai contractors to work more efficiently, reduce costs, and make substantial profits.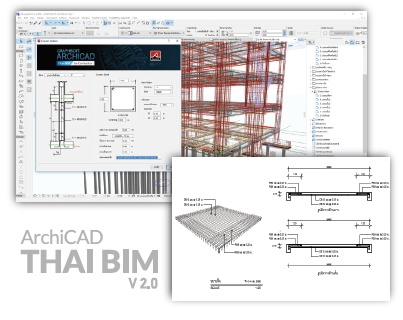 Features
Works on the ArchiCAD BIM platform.

Automated  3D modeling and design drawing

Stretching and modifying options automatically appear when you select a window in 2D or 3D for editing work.

Dialog data entry structure in Thai language, easy to understand

Quantity take-offs, foundation to the roof , structure and building 

Reference pricing of materials in the Comptroller General's Department.

Added more  function of laying different worm blocks and ready to count.

Added  more thai Object, sanitary ware brands that are popular in the market.
BIM: Building Information Modeling  is now an essential tool in the work of large companies. Especially the contractor and large project owners with executives who are new generations interested in technology to help develop work processes and track the progress of the work online. In the last 5 years, BIM has started to be used in every construction industry from building design, landscaping, and air conditioning. Including the strength structure of the building. The output requirements from BIM software may differ for different users. For example, architects need a complete model. Able to specify a full list of materials, including various plans correct and ready to apply for a construction permit and combine the architectural design with the design from the air conditioning and plumbing engineers to make the work as complete and accurate as possible. In these processes, the cost estimation team must count the equipment and the number of materials (Quantity Take-off) to obtain the material quantity documentation. In addition, the median price used in construction (BOQ : Bill of Quantities) came out to be as close to reality as possible for estimating the cost of work in that part perfectly.
It is software to help design and make designs. Building by BIM technology, unlike a general CAD drawing, BOQ can be transcribed, which is popular with architects worldwide, including in Europe, America, and Australia. Including Thailand. Both design companies, construction contractors, interior decoration, and home builders. Including various important government agencies covers educational institutions as a course for teaching at both the bachelor's and master's levels.
It helps architects translate their imaginations into 3D BIM models that can be seen from any perspective, both inside and outside, making drawings or CAD drawings easier than ever because it can automatically write the plan, side shape, and cut shape. It also helps to remove the BOQ amount of materials used in the building, such as the usable area. The outer wall area is precisely inside and faster than traditional work. It is also a tool for contractors to clear the model in 3D to get clarity on the work of different colleagues, departments, or companies who have to work on the same project. This can reduce misunderstanding of mismatched tasks, and when the designs can be combined, it makes writing an asbuilt drawing much faster than traditional methods.
BIM technology was developed for building design with a computer system to control various processes to be more consistent and accurate Both in terms of the concept of design, working time, and quality control of work. As well as coordinating with relevant parts, users of BIM technology can define and input various information and details into every aspect of the building element, such as dimensions, length, width, materials, drawing styles, prices, and others. Making every part of the design complete in 2D and 3D formats, not just writing lines or forming in 3 dimensions, but working in tandem with the whole process. This allows architects to use their design skills than simply design.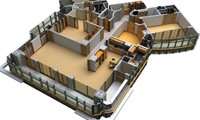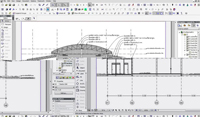 Automate 2D drawings Plan,
side-shaped, cross-section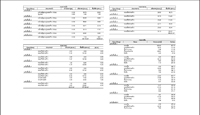 BOQ , Wall,Area ,Size Amount,
volume automatic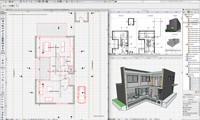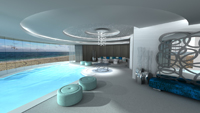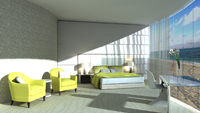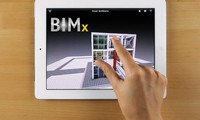 BIMx view 2D 3D on
Tablet (Android, iOS)