ARTLANTIS
โปรแกรมด้านการ Rendering และ Animation เป็นที่นิยมในกลุ่มสถาปนิกและผู้เชี่ยวชาญด้านการออกแบบมากกว่า 80 ประเทศทั่วโลก
A pioneer in architectural visualization and compatible with all the 3D modeling software on the market, Artlantis is the easiest and fastest solution for creating photorealistic renderings and animations.
What's new in Artlantis 2021
IFC Import
Artlantis 2021 enters the world of Open BIM! Known and recognized for its almost universal accounting, Artlantis 21 now imports the IFC format. This new performance, concerning the model's geometry only, allows the Artlantis user to receive any model from an interlocutor using a modeler other than their own and, if necessary, to modify the design directly in their own working tool.
LUTs
Artlantis 2021 integrates LUTs, filters for modifying colorimetry and contrast in order to create a particular atmosphere or correct images in the preview and the final rendering.Artlantis 2021 offers a range of these filters by default. Should users wish to use any custom filter, they can import their preferred LUTs, which are available on various websites as free or licensed .CUBE files.
Easy Interface
With Artlantis 2021, you can choose the interface: the one offered by default or the new Easy interface. More refined in terms of settings, it has many predefined values ​​and allows you to modify the settings by level such as "high, medium or low", for example. This approach makes it easier to understand settings, simplifies and speeds up scene-setting. Advanced users or beginners, all can use it according to their habits, their technical knowledge or their preferences.
MediaStore
With Artlantis 2021, Abvent launches a brand new MediaStore. Completely redesigned both in terms of search engine and ergonomics, its benefits are obvious:
Clearer and more readable interface
Faster navigation
Faster and simpler media search (tag system)
Direct access via the internet using an AbventID account
Available for versions 5, 6, 7, 2019 and 2020 of Artlantis…. and ready for future versions!
Artlantis 2021 Main Features
Intuitiveness and Simplicity
Interface
Designed with an obvious and ergonomic interface, Artlantis is both easy and comfortable to learn and use. At all times, the necessary tools are at hand near the real-time preview window, which allows you to see each adjustment's results.
Today the user can choose between the classic interface and the easy interface according to his knowledge and working habits.
Easy to learn
You don't have to be skilled in computer graphics — learning and using Artlantis is easy and very fast. Artlantis is used by experts, advanced users and beginners alike to simulate, present and communicate their projects, by producing both high quality still images and animations with striking photo-realism in record time!
Real time preview
The reputation and success of Artlantis are based primarily on its founding concept: a preview of the scene allowing users continuous control of each change. Right from opening a 3D scene, navigating, changing shaders and objects, lights or 3D environment — all are immediately visible in the preview window.
Performance
The speed of displaying the scene, navigating, space positioning or light dispersion – in the preview and in the final rendering – is exceptional. While the Global Illumination, which assures the realism of scenes, is known to take a lot of calculation time, Artlantis is the only rendering software on the market to provide an efficient quality / time ratio. A "draft" mode allows a fast display of the preview during the preparation phases.
2D Window
In addition to the 3D preview, Artlantis has a 2D window for positioning cameras or sequences, making it easy to set up a panorama path to explore the project.
Viewpoints
Define and save as many views as you want: in perspective, in parallel view, in insertion or panorama, each with its own light settings.
Depth of field
Just as a photographer chooses an aperture, in Artlantis, you can set the depth of field, the ISO and the shutter speed for as many views as you want. Whether you focus on an object, on a specific point in space or infinity, you can easily set the blur with the help of a slider.
Parallel views
Parallel views (projections and cuts) can be set in the dedicated inspector, based on the type of projection (elevation, axonometry, top view), camera positioning, view width, or the definition of the cutting planes … A control bar allows you to edit the main settings of the project in its environment.
Perspectives and verticals
Each point of view has its own infinite ground, level, materials and background or foreground images easy to manipulate, resize or even adjust the edges in the preview. Artlantis has a vertical function that makes a perspective mode particularly interesting for high-rise projects.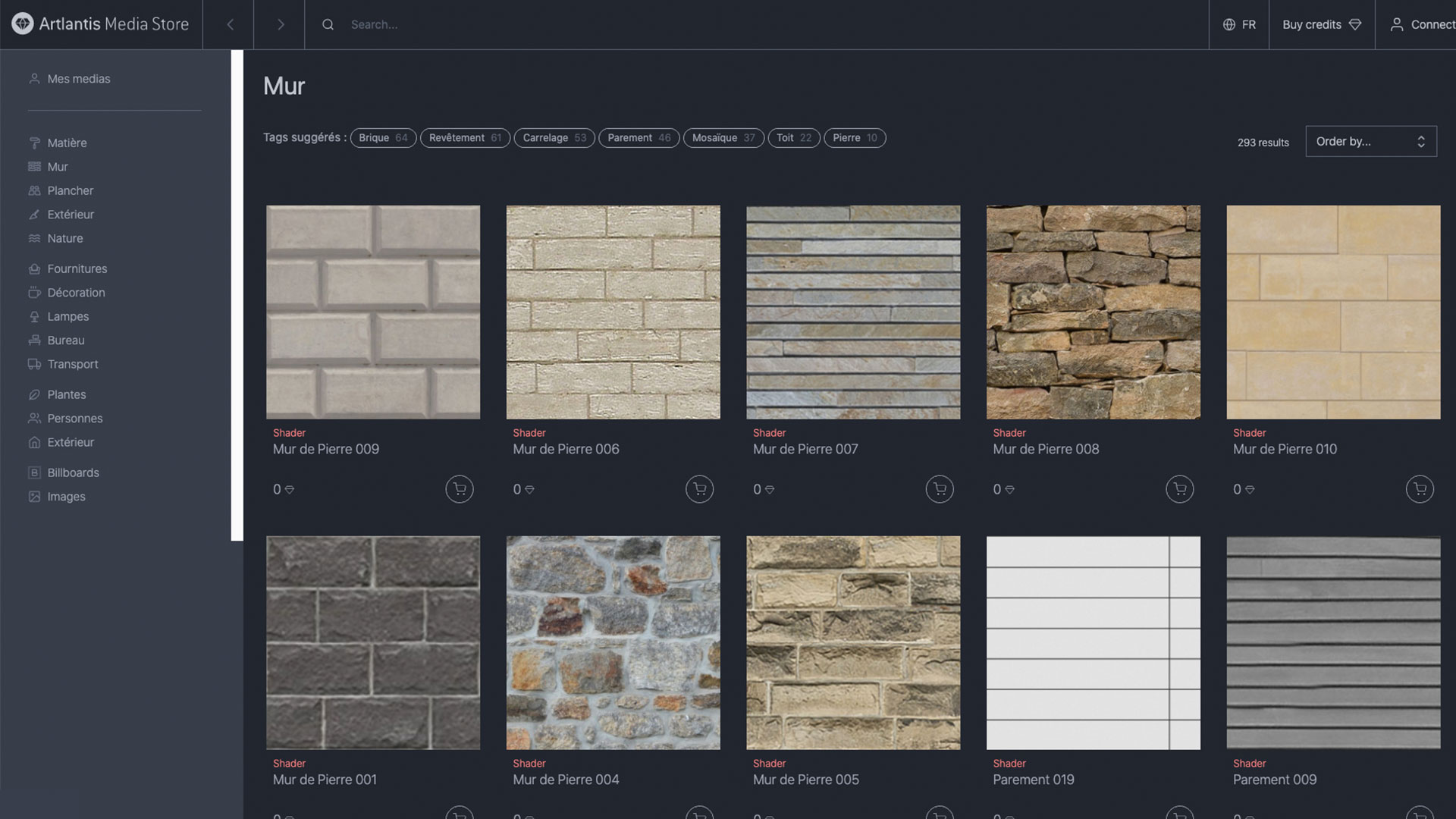 Shaders & Textures
With a simple drag and drop from the catalog onto a surface from a scene, you can instantly dress the surface with the designated material and set its attributes like color, tint, opacity, reflection and diffraction, orientation and pattern scale, etc. For more realism, you can fine tune the settings and change the outlook of the surface by modifying the reflectiveness, or shininess, or bump …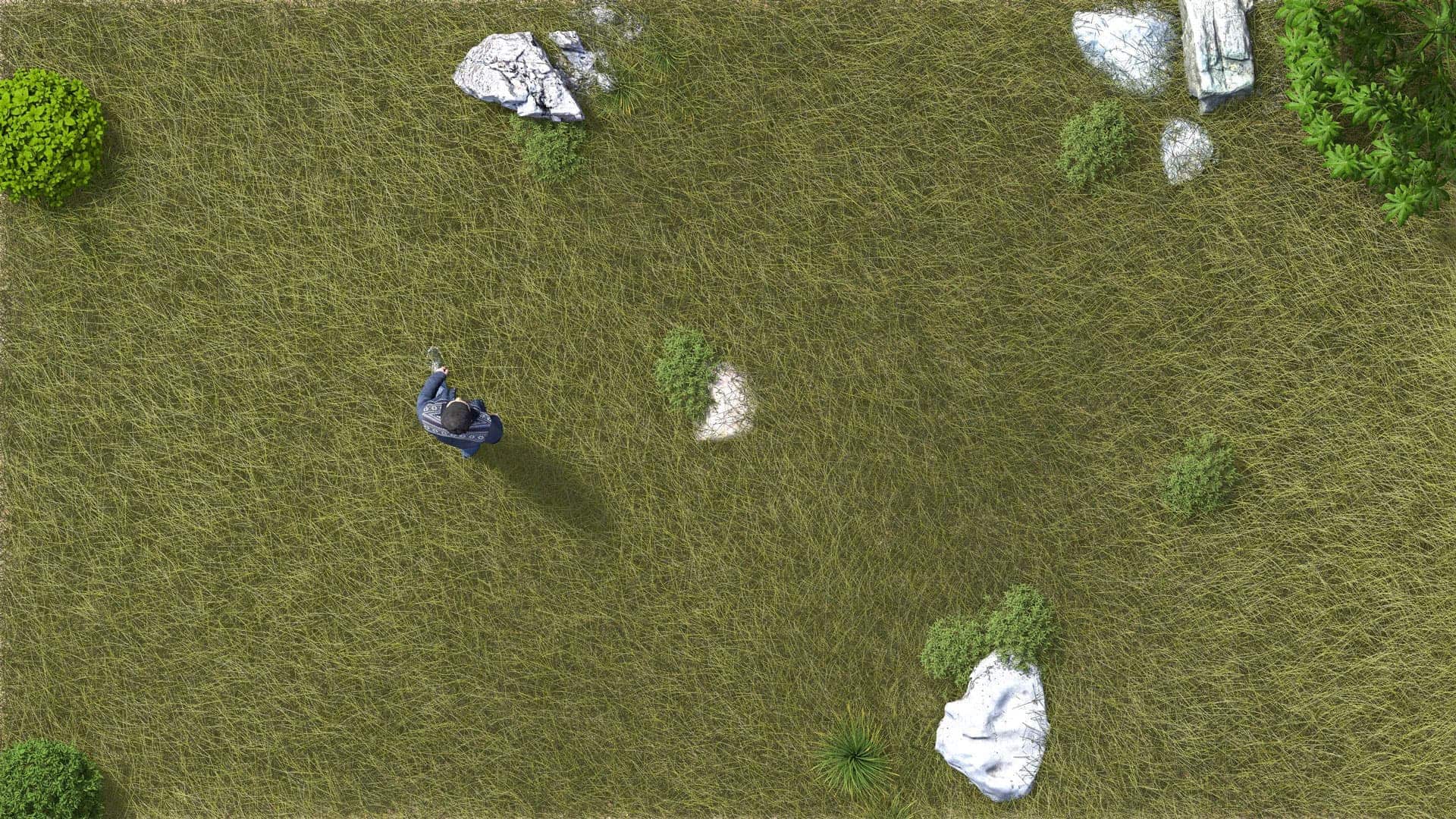 3D Grass
The integrated Media catalog offers several grass types and 6 types of 3D grass enhanced with settings: adjust the color of the grass tufts, apply density variations — the size is automatically calculated zone by zone.
RAL Colors
Artlantis offers 243 codified colors and tints from Ral Effect, RAL Design and RAL Classic color chart, which are the defining paint standards in the world of architecture and building construction.
Integrated media catalog
Artlantis owes its fame to its rich and easy-to-use catalog: more than 1000 media are organized in an intuitive maner to be explored in your 3D scenes directly.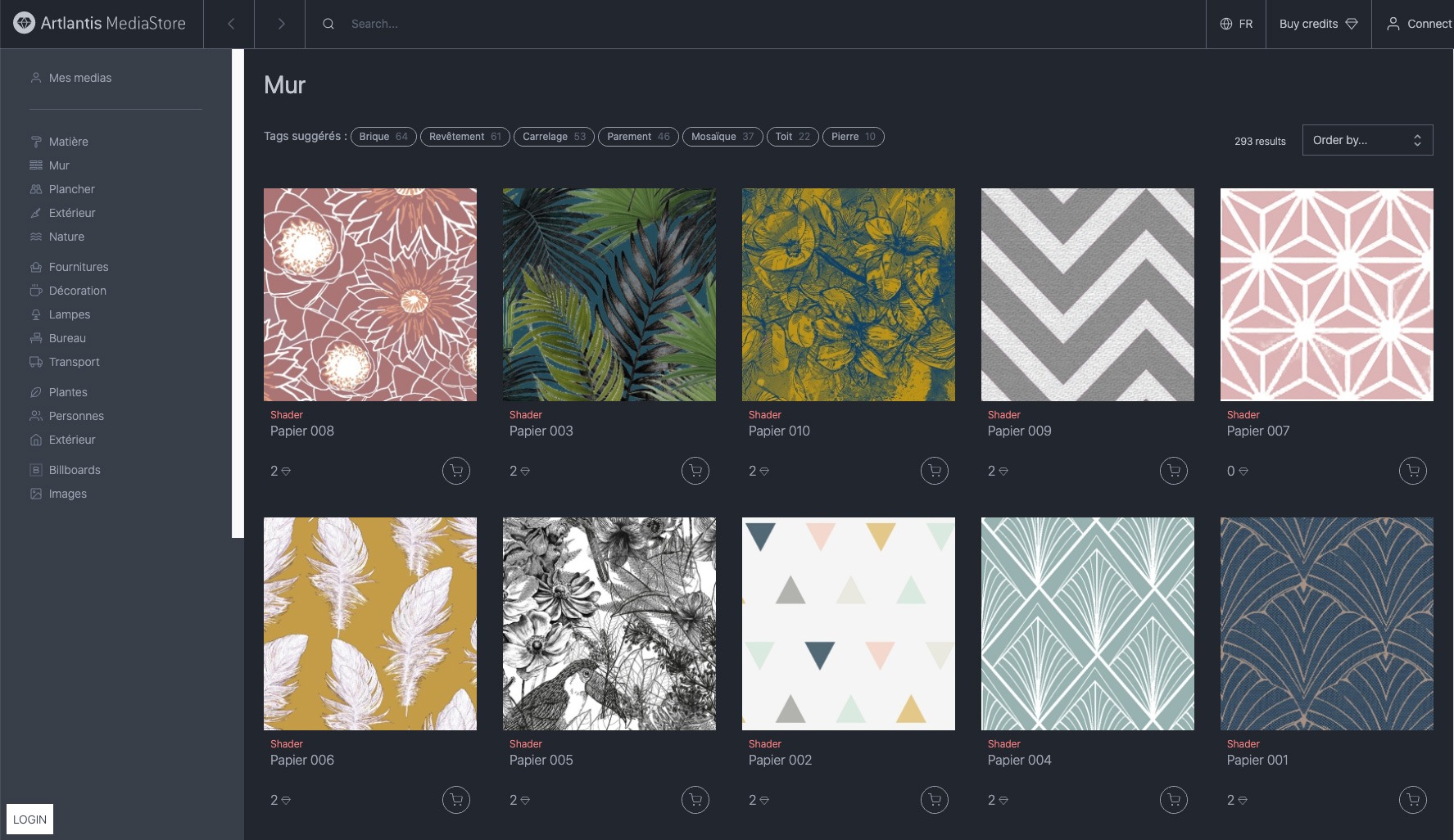 MediaStore
Thousands of additional media (shaders, textures, materials, objects, characters,etc.) are available for purchase in the Media Store directly accessible from Artlantis. Artlantis' native Media Converter assists you to transform media from previous versions. The release of Artlantis 21 is accompanied by that of a brand new
Objects and 3D Characters
For setting up reality-like, vibrant scenes, Artlantis offers a fantastic object manager. You can manipulate objects in 3D or 2D. Their behavior depends on factors specific to the view (hierarchy, anchor, season) or their placement characteristics, like a floor lamp being always vertical to the floor, or a wall lamp has to hang perpendicularly to the wall.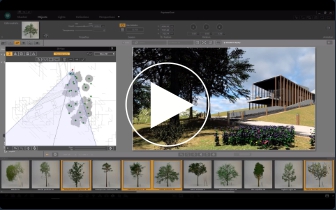 Vegetation tool
Plants, grass, lawn, and 3D trees are simple objects that you can place drag and drop. They also have a particular feature of adapting the density and shade of their foliage to the season. Artlantis offers a specific tool to place vegetation objects individually by drag-and-drop or by zone.
Global Illumination & Lights
Global illumination
With Artlantis, you can easily and quickly study the light effects according to the geometries, the energy sources, geographical location, date or materials. By integrating cache irradiance calculations, Artlantis evaluates very accurately the light energy exchanges for global illumination simulation, which further enhances the realism of the calculated images.
Lights
Artlantis has different types of light sources (spot, bulb, directional light, heliodon, sky) as well as effects (atmospheres, turbulence, diffraction, halo, depth of field) and manages transparent materials like the effects of light on curtains. Soft shadows and blurs are easy to set with an interactive cursor. You can edit a specific object contour, image or scene, and thus manipulate the light rays and soften the general ambiance of scenes and animations.
– Artificial lights with limitless positioning, orientation, color, intensity or quantity.
– 8 native IES profiles, each with custom light intensity and radiosity. You also can import your own profiles as well as those from the manufacturers' catalogs.
– Heliodons: these natural light sources can be customized depending on the time of year, day, hour and place (longitude and latitude). You can define as many ambiance and natural atmospheres as you want.
– Neon shaders: unlike point light sources, this emissive material should be applied on surfaces; you can set its power and color. It completes the artificial lights delivered with Artlantis and contributes to more realistic lighting.
Portal tool
Portals: an optimization setting for managing light in Artlantis. When using low settings for a fast calculation of your renders, this option improves the lighting of your indoor scenes and removes the noise from the image.
Still images & animations
Site insertion
Essential tool permitting to simulate a building project in its future site for building permits, a feature unique to Artlantis. Its sequenced inspector leads you step by step through the space recognition settings immediately displayed in preview. The process is simple and fluid. You can even asign transparency to the foreground images directly. Once the insertion finished, the final project is revealed in the preview window in a record time.
Post-Production
Apply different effects to the current view and set the brightness, contrast, and color of a rendering. Save time and add effects, like grain, paint or pastel; highlight contours directly in Artlantis.
Pre-defined settings
Choose from several pre-recorded modes (indoor, outdoor, low light) and different definitions (speed, medium, quality), to quickly obtain an optimal result!
White balance
White balance allows you to adjust the color cast of an image, automatically, from the chosen reference color.
Adaptive antialiasing
Artlantis intelligent antialiasing adapts to the areas to be treated to improve image quality by reducing the effect of noise and aliasing contours.
Ambient occlusion
Ambient occlusion creates shadows in the indoor and outdoor scenes, which gives scenes more depth and relief and therefore, more realism.ealism.
Denoiser tool
Decrease, or even cancel, the noise from your renderings, typically produced by the reflection from shaders. Want a little noise in your image? Decide for yourself to activate this option or not. The Denoiser tool analyzes the image's pixels and reduces the noise.
White model
This type of rendering allows you to automatically transform all surfaces of a scene — except for the transparent ones — into white material to better appreciate the project volumes. As for the lights, they maintain their colors to create very elaborate atmospheres.
Animation
Objects, characters, clouds, atmospheric effects, shaders and textures, the light sources themselves — all the components of the rendered scenes can be explored.
Artlantis makes it possible to stage and design a film from one or more sequences whose editing is done in a simple and intuitive way thanks to its integrated timeline, allowing you to define the tracking of the camera and/or the trajectory of objects and lights of the project; accelerate or decelerate their movement; combine different sequences or panoramas; create and edit a trajectory; conduct sun studies or test a 360° panoramic view.
A VR object allows you to manipulate a scene in 360° and go through into it. Automatically calculated from rendered images around the scene, simply choose the number of images to calculate horizontally and vertically to guarantee the fluidity of the animation. The film is then calculated in many formats, regardless of the platform: .jpeg, .dv, .mpeg, .tga, .mov or .avi.
ทำไมจึงต้องเรนเดอร์ด้วย ARTLANTIS
เพราะว่าซอฟต์แวร์ BIM และ CAD ที่เรนเดอร์ได้ จะมีข้อมูลมากเกินความจำเป็นสำหรับการ Render ไฟล์งาน CAD จะมีขนาดใหญ่ขึ้น ๆ ตามพัฒนาการของตัวโครงการ ซึ่งข้อมูลส่วนที่ไม่จำเป็นต่อการ Render ก็จะมากขึ้น ๆ และไม่ได้ใช้ประโยชน์ ทำให้เปลืองหน่วยความจำ
เพราะระหว่างที่ทำการเรนเดอร์ อยู่ คุณยังสามารถทำงานอื่นกับโครงการที่ทำอยู่ ต่อได้ แทนการนั่งรอให้เรนเดอร์เสร็จ
การใช้ Artlantis ในการ Rendering จึงเป็นตัวช่วยที่ดี เป็นโปรแกรมแบบ Stand-alone ไม่ใช่โปรแกรมแบบ Plug in ทำให้สามารถ แยกงาน Rendering ออกจากไฟล์งานที่กำลังออกแบบอยู่ได้ ในขณะที่ Artlantis คำนวณเรื่อง Rendering ไฟล์งานหลักก็ยังสามารถทำงานต่อไปได้โดยที่ไม่เสียเวลา
ผลิตผลของงานออกแบบที่สำคัญ คืองานเรนเดอร์ Artlantis เป็นโปรแกรมที่ออกแบบมาเพื่อการ Rendering เท่านั้น ไม่เหมือนกับโปรแกรม CAD อื่นๆที่ออกแบบมาเพื่อสร้างโมเดลและสร้างเอกสารแบบ โปรแกรมเรนเดอร์แบบ stand-alone ไม่ใช่โปรแกรมที่เป็นแค่ Plug-in ยังมี Plug in ที่ทำให้สามารถรองรับไฟล์จากโปรแกรม CAD และ BIM ที่ใช้งานอยู่ทั่วไปได้เกือบทุกโปรแกรม และหากมีการแก้ไขในไฟล์งานที่ออกแบบจะสามารถอัพเดทเชื่อมต่อให้แก้ไขได้ด้วย อีกทั้งไฟล์งานที่บันทึกโดยจะไม่มีการสูญหาย หรือเสียไป
ไม่ว่าคุณจะใช้ระบบปฏิบัติการแบบใด (MacOS, Windows) ก็สามารถใช้งานได้
สามารถรับไฟล์จาก CAD ต่าง ๆ ได้มากมาย
ซอฟต์แวร์เรนเดอร์ลิขสิทธิ์ ที่ได้ทั้งคุณภาพ และความรวดเร็ว พร้อมอบรมการใช้งานฟรี